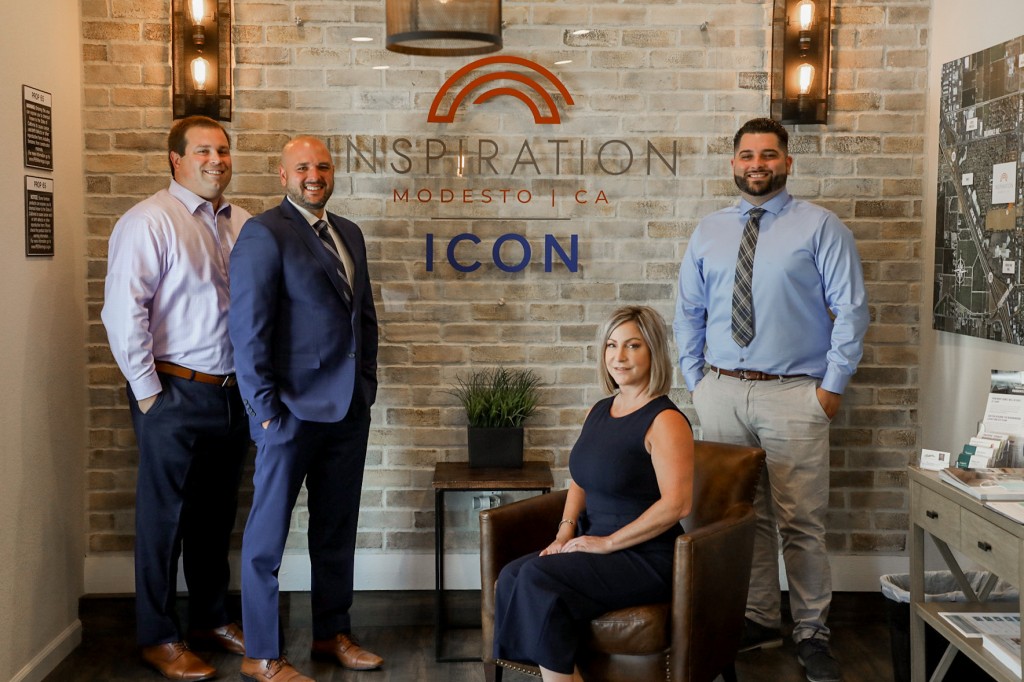 Valley Vista – MODELS OPENING SEPT 12TH! Indian Hills, NV
NOW Dusty Shoe PREVIEW-ING the model homes! Make an appointment with Jennifer and take advantage of early bird pricing before the model home opening in September. Valley Vista is a neighborhood of 36 single-story, split-level and two-story homes that are priced from the mid-$300,000's—fantastic views and value too! Get on the interest list and meet with one of our preferred lenders for an easy pre-qualification to determine your housing budget and ideal monthly payment. Great rates, great opportunity ☺
Contact: Jennifer Cross 775.247.4461 | LIC# S.0176887 | jcross@florsheimhomes.com
---
Rose Verde – SOLD OUT Turlock, CA
All 107 Rose Verde homebuyers are now moved in and enjoying their new neighborhood and new friendships. Congratulations to every family, and to Jessie and Pablo, the Sales Team, for making it all happen!
---
Icon and Metro at Inspiration Modesto, CA
These nine brand new floorplans have made an impression on Modesto and Bay Area homeshoppers alike. With 175 homes sold from the summer of 2019 to the summer of 2020, the Icon and Metro models create happiness (and the "next chapter" of their life) for many new homeowners. Solar electric and many new energy features are all included in the price, so there is no extra charge. Now that's hidden value. METRO is currently SOLD OUT. ICON homes are priced from the low $400,000's, so contact us today for virtual tours, or a private appointment.
Contact: Tiffany Leon 209.712.6450 | LIC# 01466870 | tleon@florsheimhomes.com
Contact: Ryan Nickell 209.324.5446 | LIC#01969571 | rnickell@florsheimhomes.com
---
Metro at Inspiration – SOLD OUT Modesto, CA
Contact: Joseph Vejar 925.985.8493 | LIC# 02016025 | jvejar@florsheimhomes.com
Contact: Daniel Maciel 209.597.3932 | LIC# 01903819 | dmaciel@florsheimhomes.com
---
Icon at Bridle Ridge Oakdale, CA
After a lot of research and pondering, we let the overwhelming response to the Icon new floorplans decide what to build in Oakdale. The full Icon line up is now being created in Oakdale in the popular Bridle Ridge Masterplanned Community. Extra-large homesites, and an optional expanded garage creates a spacious neighborhood feeling. Enjoy the quaint Oakdale downtown and historic, country flavor of the area.
https://39pixelsphoto.com/3d-virtual-tour/florsheim-homes-icon-the-uptown/fullscreen/
Contact: Tiffany Leon 209.712.6450 | LIC# 01466870 | tleon@florsheimhomes.com
Contact: Ryan Nickell 209.324.5446 | LIC#01969571 | rnickell@florsheimhomes.com
---
Calaveras Place II Stockton, CA
Florsheim Homes will be back in Stockton in 2021 with a new phase of homes in the Oak Park area. With 40 generous homesites and versatile single story and two story home designs, Calaveras Place II offers affordability and solar standard as well! Stay tuned to get on the interest list soon ☺
---
A Message From Stella The Cat Why Wait, Don't Debate!
With interest rates at historic 50 year lows, Stella the Cat asks the question, why wait to buy a new home? Connect with our Sales Team today and learn how you can take advantage of these amazing interest rates and payments. Why Rent?
We are open 24/7 via our Florsheim Homes website. Our Sales Team is available through Zoom, text or phone and by a personal, private appointment. View our 3-D virtual walk-thrus and connect with us today!
CA DRE #00526755 | NV DRE #1000591 Equal Housing Opportunity
---
Sales Team of the Summer Metro and Icon at Inspiration
The Escala Properties Team works closely with Florsheim Homes to help many, many families make their dream of owning a new home come true. We are proud to present four very experienced Sales Counselors: Tiffany and Ryan specialize in the Icon models and Joey and Daniel focus on the Metro models. All four work very closely together at Inspiration (just north of the Vintage Faire Mall in Modesto) to help homebuyers qualify for and choose just the perfect home.