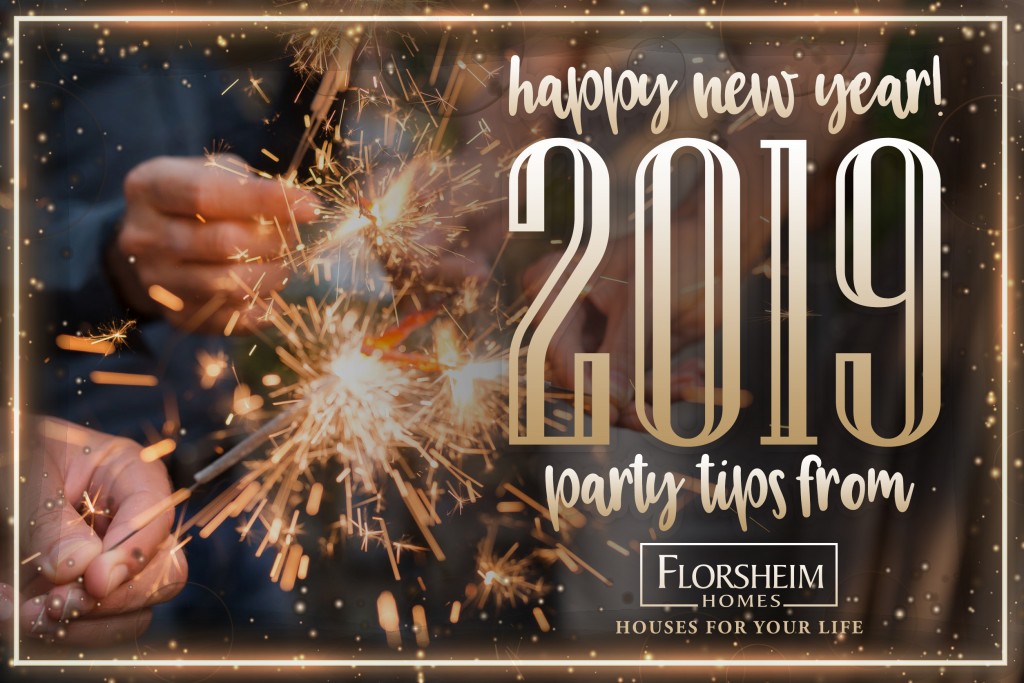 Kick off  2019 by hosting a fabulous New Year's Eve party.
It's the home stretch! You've almost
made it through the holidays
and it's time to celebrate! We want to make it easy for you to host a fabulous New Year's Eve party in your home. Entertaining on New Year's Eve is never a simple feat; and as the years pass, the expectations are set higher – creative party snacks, décor that sparkles, and clever games. We forget all the planning and aftermath of hosting friends of friends, keeping track of the time, your kitchen floor covered in confetti, the never-ending pour of champagne. And so, we find ourselves playing intimate-party hostess year after year despite the expected aftermath. To help pull together a stylish countdown celebration,
Florsheim Homes
put together some easy, last-minute ideas that will make your 2019 New Year's one for the books. Sometimes it's the small details that make your party one to really remember:
TIP #1: MAKE CRAZY CUBES
Your guests will be talking about your festive ice cubes all year. Simply freezing multi-colored sprinkles or sugar in your ice trays will make everyone's drinks sparkle all night long. Make your Crazy Cubes the night before and display them in a clear ice bucket to show them off!
TIP #2: TIC-TOC, TIC-TOC
For a sentimental and original touch, ask all your guests to bring their old alarm clocks. Spread them all over your house and set all the alarms to go off at midnight. Not only does this make decorations easy, but you can turn it into a game and see who can snooze the most alarms as they start going off.
TIP #3: FAMILY & KID FUN
Do you feel like rocking pajamas at home with the family on New Year's Eve? If you are home with young kids, why not make it a little bit more special:
*NYC New Years Countdown:  Do an early countdown so the little ones can participate and keep bedtime consistent.
*Crafts: Make your own ball to drop at the countdown.
*2019 Toy Bag:  New Year's toys like glow sticks, silly string, confetti wands, party poppers, noisemakers, pop rocks or rock candy crystal sticks are great for kiddos.
TIP #4: HAVE A FONDUE PARTY THEME
Pick a theme! Have your guests bring one item to "dip" in the fondue that represents their New Year's resolution. For example, bring bread and write on a tag, "I plan to make more dough (money) this year." Bring angel food cake and write, "I plan to be more of an angel this year and give back."
TIP#5: BOOZE BUFFET
It's easy to spend hundreds of dollars on alcohol; you want to make sure that your guests enjoy themselves, but you don't want to be paying off your tab through 2019. Consider throwing a BYOB party. Another option is to keep the drink menu simple and offer only beer and wine – the rest of the booze is potluck style.
TIP #6: BE SAFE 
Don't drink and drive. #UBER #LYFT #YellowCab (209) 465-5721) – If you're hosting, this may mean taking keys and offering couches to sleep on. Regardless of what age your guests are, utilize the "key basket" to ensure everyone is safe. Read more safety tips at
Health Beat
.
TIP #7: GO OUT
Avoid the chaos all together and go out for a night on the town or for a quiet dinner. No clean-up… SOLD!
TIP #8: RESOLUTION GAMES
Often the most rememberable moments come from the games! The best part about these New Year's Eve party games is they're easy and fun.
*New Year's Resolution Mad Libs: Fun and simple, The Idea Room makes a play on Mad Libs. Print off the free New Year's Resolutions Mad Libs Story and create some hilarious moments.  (New Year's Resolutions Game from The Idea Room)
*New Year's Eve Minute to Win It: The Idea Room also has ten free, printable cards that outline what you must do. There's a lot of silliness to these and they get better as the evening progresses.  (New Year's Eve Minute to Win It Games From the Idea Room )
TIP #9: CUT OUT THE CONFETTI AND SUPPLY SPARKLERS
Make your midnight countdown one you don't wake up to regret… Using sparklers rather than confetti will make your home that much easier to clean after the party is over. If you can't light them outside, make sure you have a glass of water close by just in case and to hold the extinguished sparklers after. From all of us at Florsheim Homes, we wish you a prosperous, safe, and healthy 2019!