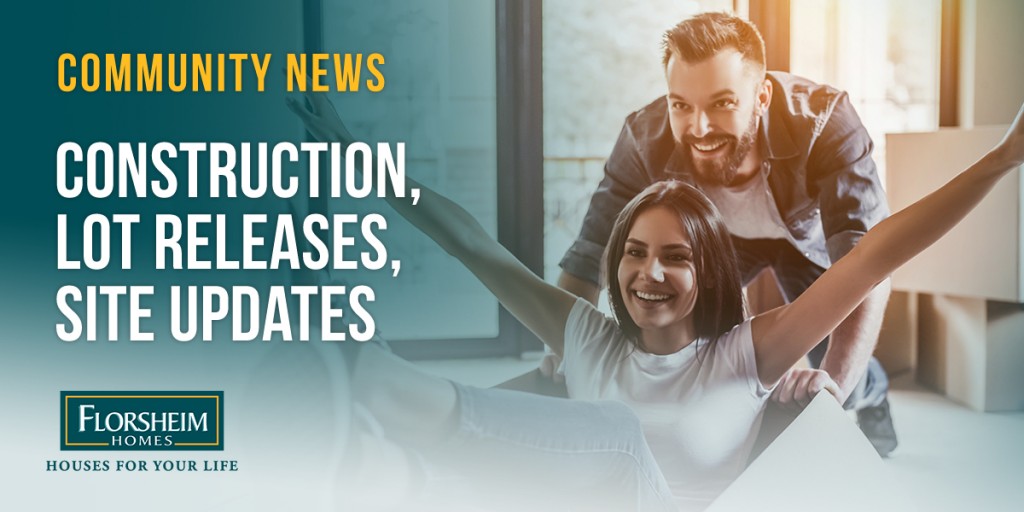 SOLD OUT COMMUNITIES, CONSTRUCTION PROGRESS, AND RECENTLY RELEASED LOTS!
Get all the latest news about Florsheim Homes' communities; from grand openings to the final release of homesites.
CAPITAL VILLAGE Carson City, NV
Less than 5 homes are left at Capital Village!
Less than 5 homes are left in this family-friendly gated community nestled between the Sierras and Lake Tahoe—take a look at the floorplans available at Capital Village. Find your brand new dream home in scenic Carson City!
Jennifer Cross for questions | 775.247.4461 | LIC# S.0176887 | jcross@florsheimhomes.com  | Open everyday 10 am – 5:00 pm 
Location: 1191 Canvasback Drive, Carson City LOCATION MAP | AVAILABLE HOMESITES | BROCHURE | GALLERY |  VIDEO

ROSE VERDE Turlock, CA
Less than 25 homesites are left since Rose Verde's Grand Opening earlier this year! 
Less than 25 homesites are left since Rose Verde's Grand Opening earlier this year! With recently released and much-awaited cul-de-sac lots, don't miss these stunning models – including "The Heartland" feature plan! The Heartland is a cozy two-story home with just the right amount of room. Featuring a standard floorplan with 3 bedrooms and 2.5 baths; with the option for a 4th bedroom and full bath on the first floor. Read more about it here.
Jessie Watson for questions | 925.321.1440 | LIC# 01968827|Jwatson@florsheimhomes.com
Location: 2433 Wisteria Lane, Turlock LOCATION MAP | WALKING MAP | AVAILABLE HOMESITES | BROCHURE | GALLERY

ICON AT INSPIRATION Modesto, CA
With 40 homes sold in the first five weeks, construction has officially started at Inspiration!  
Introduced in July of 2019, Icon's Grand Opening event was an outstanding success and we've been working diligently to keep up with homebuyer interest. The tremendous turnout made headlines! Read the Modesto Bee's account of Icon's Grand Opening. "In real estate, location is king. In Modesto real estate, location near the mall, shopping and freeway is like the Iron Throne — tough to claim and a long time coming." READ FULL ARTICLE
Tiffany Leon for questions | 209.712.6450 | LIC# 01466870| tleon@florsheimhomes.com  Ryan Nickell for questions | 209.324.5446 | LIC# 01969571 |rnickell@florsheimhomes.com
Location: 3112 Vintage Drive, Modesto ENTER FROM THE NEW INTERSECTION OF DALE RD. AND VINTAGE DR.  MODELS ARE LOCATED ONE BLOCK NORTH OF THE VINTAGE FAIRE MALL. LOCATION MAP | AVAILABLE HOMESITES | BROCHURE | GALLERY

CALAVERAS PLACE Stockton, CA
Calaveras Place is completely SOLD OUT as of May 2019!
A perfect fit with Stockton homebuyers! Complete with three modern floorplans, Calaveras proved to be the ideal community for those seeking contemporary comfort and style. Keep an eye out for future Florsheim communities in Stockton!
ROSE PARK Modesto, CA
All FOUR Rose Park communities have officially SOLD OUT as of June 2019! 
With 284 homes across 4 flourishing communities in Modesto, Rose Park has been a highly popular line of homes featuring up to six different models in a single community. Each Rose Park location offers something wonderful and homes sold at a pace of about 100 homes PER YEAR since the Grand Opening of Rose Park 1 in 2016! Congratulations to all 284 new homeowners in Rose Park!

STELLA & CREW (JOIN THE CREW)
We're so excited to share our newest FUR-end, Stella the Cat; read her introduction here! 
This sassy feline is PURRRfect for explaining all the best parts of owning a new home. PURRR-haps, you've even seen her around our website and social media! Stella—along with her crew—are here to teach you all about what you get when you buy a brand new home. Join Stella as she shares all the benefits of buying a brand new FUR-ever home. We're not KITTEN when we say Stella is one smart, sassy cat and she can't wait to teach you all about the best parts of buying now!
IT'S YOUR FUTURE HOME, PARTNER WITH SOMEONE YOU TRUST!
With more than 500,000 homebuilders in the United States, Builder Magazine ranked Florsheim Homes in the Top 200 National homebuilders!
Today's homebuyers are searching for newly constructed homes where foundations are being poured, walls are being framed, and Sales Agents and lenders are there to support you along the way. Aside from standard solar features and home warranties, a new home is the smart move if you're looking to avoid the unforeseen costs of buying a resale home.
At Florsheim Homes, we bring dreams to life with flexible floorplans, endless amenities, plentiful options, and ideal locations. Congratulations to the entire team for making so many dreams come true!

EXPERIENCE FLORSHEIM'S HOME DECOR PROCESS
Get all the features and upgrades you need when you experience Florsheim's Home Decor process. Personalize your new home with all the finishes and "must-haves" with our team of experts. Check out the fabulous features and upgrades you can pick from when selecting your home decor… and see why buying a new home is so much better than a resale!
CA DRE #00526755 | NV DRE #1000591 | Equal Housing Opportunity
The concepts and content provided are meant to simply illustrate various real-life experiences that occur while owning a home. Whether searching for a new or resale home, customers are responsible for evaluating their homebuying decision on their own; it is suggested that you consult with real estate professionals of your choice. There are no guarantees or warranties implied with this information, rather just a lighthearted perspective on housing choices. Amenities, floorplans, product features, timing, and representations are an artist's conception and are subject to change without notice.
Florsheim Homes reserves the right to make modifications to elevations, floorplans and features without notice. Elevations and floor plans are artist's conceptual drawings. Square footages are approximate and vary per plan and option chosen. Porches, windows and room configurations vary per plan and elevation. Front doors and garage doors shown depict different window patterns; see the sales representative for exact community specifications and disclaimers.
Copyright © 2019 Florsheim Homes, All rights reserved.