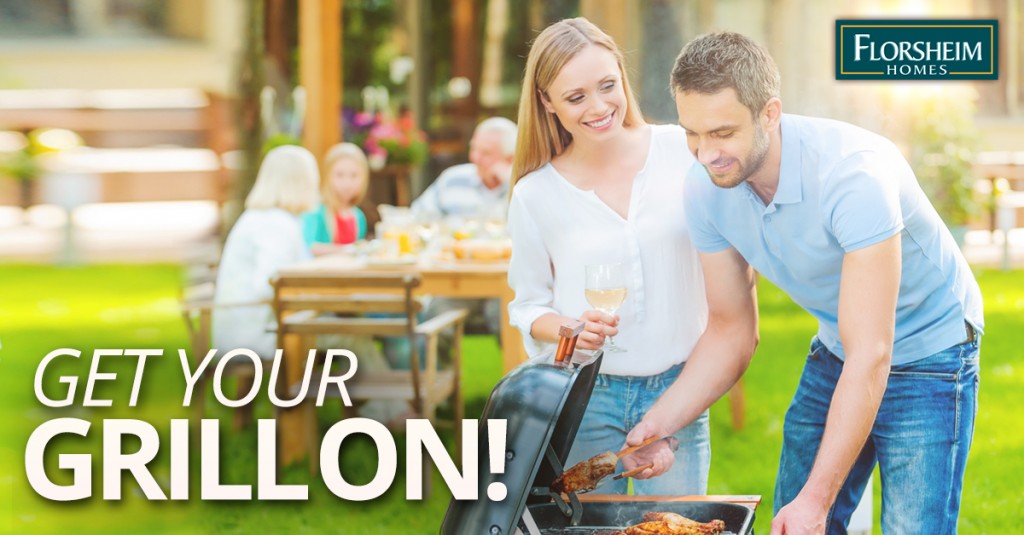 Summer will soon be here, and with it comes longer days, warmer nights, and a reason to bring out the barbecue. Whether it's Memorial Day, July 4th, or just the perfect weekend to get together with friends and family, now's the time to begin prepping your home and yard for your next gathering. With floorplans designed to accommodate everyday living as well as entertaining, Florsheim's homes are perfect for get-togethers large and small.
Follow these tips to make the most out of your next backyard soirée!
VIEW COMMUNITY
Get Your Grill On
If the centerpiece of your gathering can be summed up by those three magic letters, make sure to clean and prep your grill in advance of your event! This means making sure you have charcoal or gas on-hand and that the grill still lights after a period of disuse.
Disposable Table Cloth
For easy clean-up and a charming, rustic look, use craft paper to cover your table. When the party's over, simply fold the paper up and toss it. It doesn't get any easier than that!
Protect Against Pests
Outdoor parties tend to attract unwanted guests—the kind that fly in and land on you and your food. Protect your precious dishes with an upside-down wire-mesh colander and set citronella candles around the perimeter of your yard with the dual purpose of decorative lighting and protection against intruders.
Taking a Seat
Encourage your guests to stick around and get comfortable by moving floor pillows, cushions and other indoor seating temporarily outdoors. While you won't want to leave them out overnight, a careful arrangement of indoor items and furniture can lend some of that comfort to the outdoors.
Design Your Lighting Solution
A simple string of fairy tale lights or an arrangement of candles will go a long way in setting a comfortable outdoor atmosphere. Try different combinations of lights and lanterns to find the lighting solution that suits your space best.
Keep It Simple and Enjoy
Ultimately, the most important component of a successful party is the people you share it with. Simple food, like fresh fruit or no-fuss appetizers, a few decorative touches and a theme-appropriate playlist will go a long way toward making your get-together a success. Keep this in mind to keep the good times rolling all summer long!
Come and See!
Interested in making a Florsheim Home yours? Please contact us by phone at: (800) 985-HOME (4663) or click the button below to send us an email.
CONTACT US