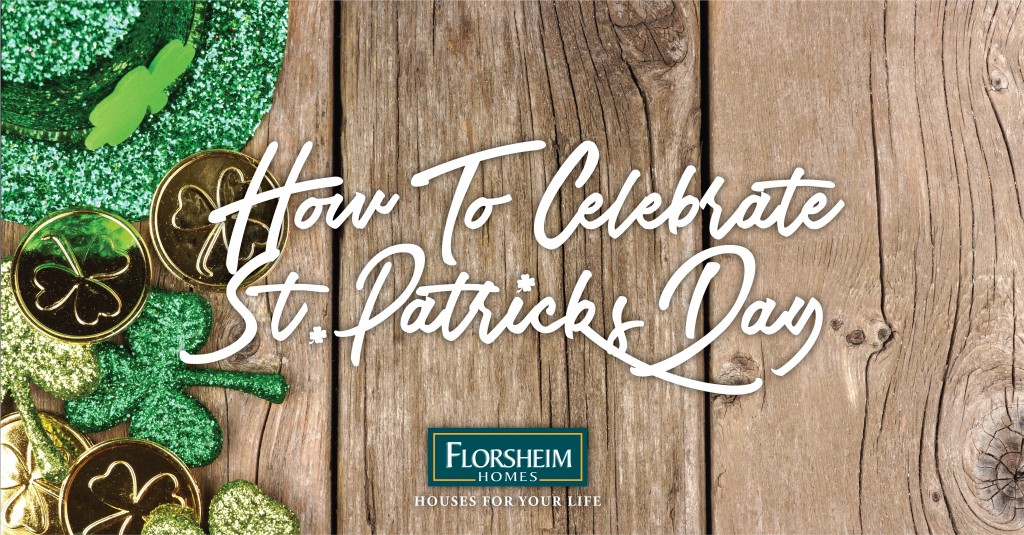 DID YOU KNOW… THERE'S NO CORN IN THAT CORNED BEEF YOU'RE EATING!
Corned beef and cabbage, a traditional Saint Patrick's Day staple, doesn't have anything to do with the corn grain. Rather, the term comes from the treatment of the meat with large-grained rock salt, also called "corns" of salt.
LOOKING FOR SOMETHING TO DO THIS ST. PATRICK'S DAY?
Florsheim Homes encourages you to spend some time celebrating in your own community this year. If you're going to be near Stockton, Turlock, Modesto, or Carson City this St. Patty's Day, check out what is going on locally.
MODESTO TAKES ST. PATRICK'S DAY SERIOUSLY
Check out local events in Modesto, CA:
LUCKY FEST
This annual pub crawl in downtown Modesto features 25 pop-up St. Patrick's Day-themed pubs for one day only. Live music and dancing.
IRISH DAY 
The historic Gold Rush town honors its Celtic heritage with booths, art, food, wine, music, dance, jugglers and more.
SHAMROCK'D MUSIC FESTIVAL
This festival is one of the best all-ages event this St. Patrick's Day! The event will be located at vintage gardens in Modesto! Activities for the kids: Face painting by Face the Design, photo booth by Party Pizzaz, create your own sundae by Oodles Frozen Yogurt.
–
STOCKTON FEELS LUCKY, TOO
Check out local events in Stockton, CA:
CAST IRON TRADING CO. 
Get your green on at Cast Iron Trading Co. with a St. Patty' theme selection of beer on tap and food specials, don't forget to dress like a leprechaun!
FINNEGAN'S IRISH PUB & RESTAURANT
Celebrate all things Irish at Finnegan's Annual St. Patrick's Day party, which promises a night full of green beer and other outdoor activities that keep the party going.
PAPAPAVLO'S BISTRO & BAR – LINCOLN CENTER
This Mediterranean bistro in Lincoln Center is going full fledge Irish on St. Patrick's Day.
WHISKEY BARREL TAVERN
The St. Paddy's Day Party will feature live performances by various local bands, plenty of green beer, and corned beef and cabbage.
–
TURLOCK SHAMROCKS ON ST. PATTY'S DAY
Check out local events in Turlock, CA:
THE UDDER PLACE
Rise and shine… The Udder Place in Turlock will be opening their doors for the early birds who like to pregame before the pregame. They will also be serving corned beef sliders, Bangers and Buns, and green beer.
GRAND PIANO BAR
This year it will be opening their doors at 4 p.m. and having live music and serving food specials such as corn beef sliders.
HAUCK'S BAR & GRILL
Find tons of festivities awaiting St. Patrick's Day. Hauck's Bar & Grill will be serving green beers and specials such as corn beef and cabbage.
THE DUST BOWL BREWERY TAPROOM
Have a blast listening to live music, made-to-order local brats, a bagpiper, and outdoor games for the whole family.
–
CARSON CITY LOVES GREEN
Check out local events in Carson City, NV:
ST. PATRICK'S DAY AT THE FOX 
The Fox Brewpub is a traditional, English-style pub located in the Historic St. Charles Hotel in downtown Carson City. Enjoy Irish food and music, green beer, Sean the Piper, The Sierra Highlanders Bagpipe Band and lots of shenanigans!
LUCK OF THE IRISH 3.17 (5K) 
Are you feeling lucky? St. Patrick's Day Carson City is celebrating with our third annual Luck of the Irish 3.17-mile race!
–
WITH ALCOHOL COMES GREAT RESPONSIBILITY
 Friends don't let friends drink and drive so leave the car keys at home or catch a ride. #UBER #LYFT #TAXI – From all of us at Florsheim Homes, we hope you always find the gold at the end of your rainbow.
–
Florsheim Homes does not endorse any of the noted establishments, companies, events, or activities. The information provided is generally what you can expect, and Florsheim Homes is not responsible for changes to event details. Equal Housing Opportunity.
#lincolncenter #facepainting #facethedesign #balloonartist #photobooth #partypizzaz #oodlesfrozenyogurt #shoplocal #community #drinkspecials #valleybrewingcompany #cornedbeefandcabbage #shepherdspie #whirlowstossedandgrilled #miraclemile #cornedbeef #cabbage #guinness #whiskybarreltavern #stpatricksday #stpaddysday #whiskybarreltavern #luckyfest #modesto #theudderplace #grandpianobar #haucksbarandgrill #memoscocinaandtequilabar #thedustbowbrewerytaproom #centerstreetgrill #TheFoxBrewpub #UBER #LYFT #TAXI