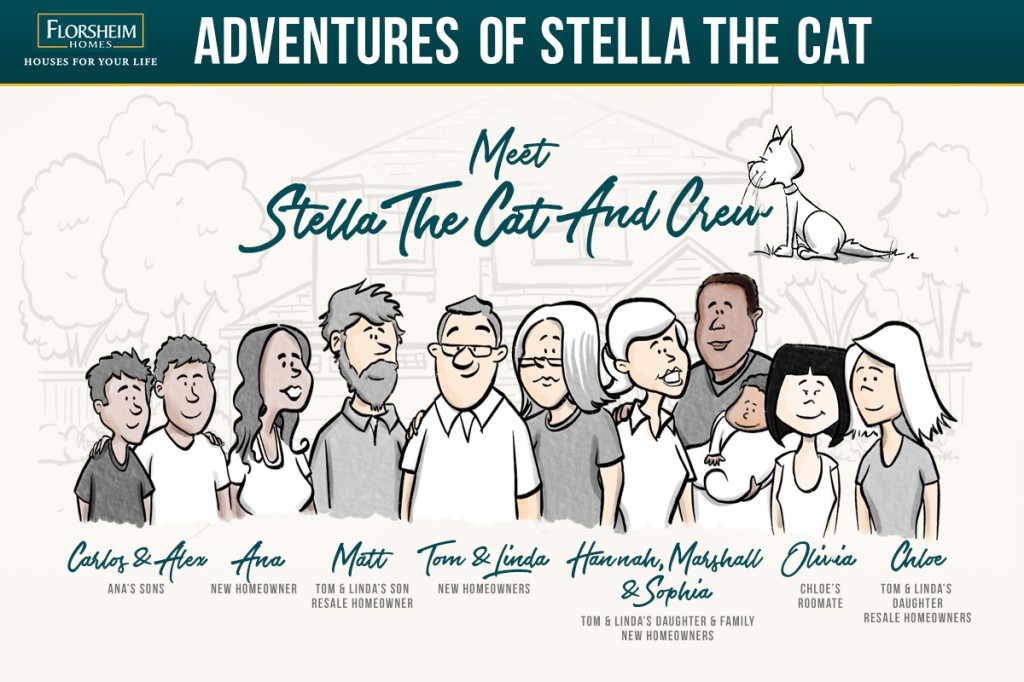 STELLA IS A CURIOUS, CLEVER, AND PAWS-ITIVELY CHARMING FUTURE HOMEBUYER!
Stella is on the prowl for the PURRRfect home that will leave her growing family feline good!
Join Stella as she ventures through multiple homes, enjoying the hospitality of others and discovering all the benefits of living in a newly constructed home. 
Stella currently rents a resale home with her family. Recently the non-stop maintenance, increasingly high rents, and outrageous energy bills have grown PAWS-itively inconvenient! Stella is moving on up in life and searching for a contemporary and cozy home with all the features and warranties every homebuyer looks for.
– More free time to pet and brush your cat – Extra money to buy designer cat food – Solar features for long cat naps – Large kitchen for catnip and milk – Sturdy fences to keep dogs out – Luxurious home designs with master cat room – Bubble baths for cat soaks and relaxation
Catch this sassy, and lovably sneaky cat, here to help you along your homebuying journey!
NEW HOMES AVAILABLE NOW!
CALIFORNIA & NEVADA
---
CAPITAL VILLAGE | CARSON CITY, NV
Proud of its Past, Confident of its Future
Check out the gated family-friendly community at Capital Village. Nestled between Lake Tahoe and The Sierras, Capital Village features two-story designs with 3 to 5 bedrooms and wide-open floorplans. Prices from the low $300,000's to mid $300,000's (800) 985-HOME (4663) | jcross@florsheimhomes.com
ICON AT INSPIRATION | MODESTO, CA
Memorable Architecture for Inspired Living
Live steps away from the Vintage Faire Mall, and minutes from Hwy. 99. With outrageously flexible floorplans and upgrades for stunning stair rails, bathroom suites, and California Rooms. Prices from the high $300,000's to high $400,000's (800) 985-HOME (4663) | ICON@FlorsheimHomes.com
ROSE VERDE | TURLOCK, CA
Jewel of the Valley
Rose Verde encompasses 107 total homesites with five unique floorplans. Both single-level and two-story designs showcase the latest in California interior design style and outstanding architectural character. Prices starting in the high $300,000's (800) 985-HOME (4663) | jwatson@florsheimhomes.com
---

"Let us know if we can help you on your home search journey!"
CA DRE #00526755 | NV DRE #1000591 | Equal Housing Opportunity
The concepts and content provided are meant to simply illustrate various real-life experiences that occur while owning a home. Whether searching for a new or resale home, customers are responsible for evaluating their homebuying decision on their own; it is suggested that you consult with real estate professionals of your choice. There are no guarantees or warranties implied with this information, rather just a lighthearted perspective on housing choices. Amenities, floorplans, product features, timing, and representations are an artist's conception and are subject to change without notice.
Florsheim Homes reserves the right to make modifications to elevations, floorplans and features without notice. Elevations and floor plans are artist's conceptual drawings. Square footages are approximate and vary per plan and option chosen.  Porches, windows and room configurations vary per plan and elevation. Garage doors shown depict standard windows, however, front doors are sometimes shown with optional window upgrades and patterns.
Copyright © 2019 Florsheim Homes, All rights reserved.