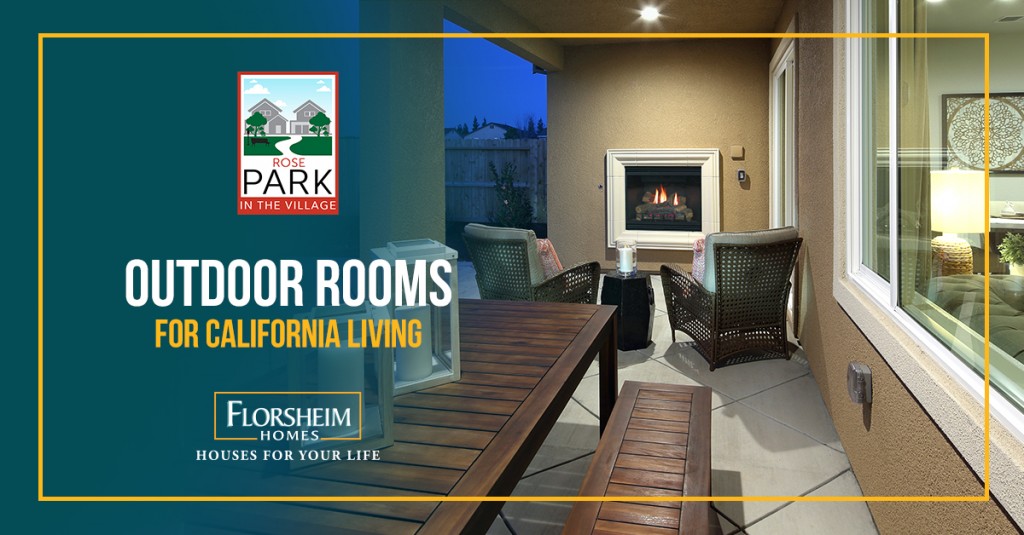 HOMEOWNERS ARE LOVING THE OPTIONAL OUTDOOR ROOMS AT MODESTO'S ROSE PARK!
Designed with the option of an open transition space, Florsheim's Outdoor Room, also known as a California Room, allows homeowners to seamlessly blend the outdoor serenity with indoor luxuries.
So, why is Florsheim's optional Outdoor Room and fireplace so popular with residents at Rose Park? Simply put, the Outdoor Room is becoming a must-have for homebuyers across the country.
Many use the Outdoor Room as an open family room with comfortable seating and a roaring fireplace. While others might turn it into a luxurious place to escape for quiet reflection or family relaxation.
* GREAT FOR ENTERTAINING *
GRILL WITH YOUR FRIENDS AND FAMILY
GUEST WILL STAY WARM ALL NIGHT NEXT TO YOUR OUTDOOR FIREPLACE
PLAY GAMES, DRINK WINE AND HAVE A BLAST
* RELAX IN COMFORT *
UTILIZE YOUR OUTDOOR SPACE YEAR-ROUND WITH A NIGHTCAP ON YOUR PATIO AFTER DINNER
ENJOY YOUR MORNING COFFEE OR TEA ON YOUR PLUSH OUTDOOR FURNITURE
KEEP AN EYE ON THE KIDDOS PLAYING IN THE BACKYARD WHILE YOU GET COMFORTABLE
Specially designed with California living in mind, these rooms make it easy to relax, entertain, and love your home. Rose Park "In the Village" offers 6 new home designs, with a myriad of possible floorplan configurations. Whether you prefer single or two story living, Tuscan or Traditional exteriors—we have thought of it all with these elegant, yet functional new homes.
MODESTO, CA | FAMILY FRIENDLY MODERN HOMES IN A WALKABLE COMMUNITY
LOCATION MAP | AVAILABLE HOMESITES | BROCHURE |  GALLERY
LOCATION: 3905 Banyan Tree Dr. Modesto, CA 95355
(800) 985-HOME (4663) | MODEL HOURS – Open 7 days/week 10am-5pm
CA DRE #526755 | NV DRE #1000591
Rose Park
Rose Park
Equal Housing Opportunity. Florsheim Homes reserves the right to make modifications to elevations, floor plans and features without notice. Elevations and floor plans are artist conceptual drawings. All garage doors show optional windows. Square footages are approximate. Windows, porches and room configuration vary per plan and elevation.
The content of this blog is covered by copyright and all words and photographs are the copyright of Florsheim Homes, the owner of this blog, unless otherwise stated. The content including all photographs may not be reproduced in any way without the owner's prior permission. All content provided on this blog is for informational purposes only. The owner of this blog will not be liable for any errors or the availability of this information.